Shipping Policy
Shipping information
How Shipping Works
We have several fulfillment centers that store and ship our products. If you order more than one item, each may be shipped from a separate location, and therefore, may arrive at different times. Your original estimated shipping amount does not change if more than one shipment location is used. Shipping timeframes depend on the type of item you buy, the time it leaves the warehouse and the shipping option you choose.
Where We Ship
We ship to street addresses only (sorry no P.O. Boxes) within the United States and Canada. Sorry, we do not ship to Puerto Rico, Guam, Mexico, U.S. Virgin Islands or Military APO/FPO addresses.
Shipping Options
In most cases, we offer three convenient shipping options for you to choose from. A few items are considered oversize and can only be shipped via freight truck. For shipments sent by Standard to Alaska, Hawaii and Canada, please add 2 business days to the shipping time. Business days are considered Monday through Friday excluding holidays.
Standard shipping delivery estimates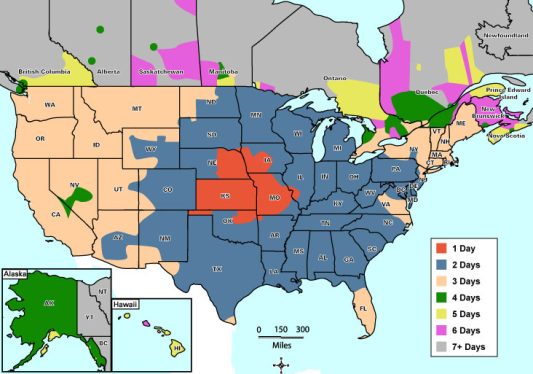 Delivery options
| | |
| --- | --- |
| Delivery option | Shipping time |
| Standard | See map above for estimated shipping time. |
| Priority | 2-3 business days |
| Express | 1-2 business days |
| Freight* | 5-12 business days |
* Freight is the only shipping option for oversized items. Please note that this does not include liftgate service. If you require liftgate service at your delivery location, there will be an extra fee of $50.00 (does not apply to $300 minimum orders). Please contact us at 1-800-269-6737 from 7 a.m. to 5 p.m. Arizona time (MST) immediately after placing an order to arrange for liftgate service.
Shipping Rates
Exact shipping totals are calculated and displayed when you begin checkout after entering your shipping address, but before you finalize payment